Work package: Archaeological investigations in respect to the origin and development of oasis settlements in Oman
Contact Person: Dr. Jutta Häser, German Protestant Institute of Archaeology, Amman
Scientific staff and PhD students: Dr. Jutta Häser, Dr. Jürgen Schreiber, Dipl.-Ing. Martin Grosch, Frank Voigt, M.A.
Objectives: The research is focused on processes of transformation throughout history, regarding the architecture and material culture, the economy and ecology of the oasis settlements in a regional and interdisciplinary approach. The aim of the archaeological study is the investigation of the settlement in respect to their establishment and development as well as their ecological setting.
Study locations:
---
Archaeological survey at Al Jabal al Akhdar in 2004 and 2006
The Jabal Akhdar region was a prohibited area only used by the Oman military. This restriction of access was loosened in 2000 and abolished in 2005. Therefore, the archaeological survey of this project in 2004, was the first one which was carried out in that area. It was concentrated on the southern part of the Saiq-Plateau. Despite of the short time (five days) for the survey, 101 archaeological sites have been registered.
The natural conditions are very suitable for growing plants. Therefore, it was thought in the beginning of the survey that very early settlements could have been established here. However, the investigations showed a different picture.
The earliest remains are 57 Hafit type tombs dated between the early 4th to the beginning of the 3rd millennium B.C. Like in other areas, they are located at very visible places at tracks or close to natural water resources.
The earliest settlement sites were found close to Saiq. They can be dated to the Early Iron Age (1000-600 B.C.). One can be described as a fortified place. This is situated on a spur above Wadi Ma'idin. The other one is marked by foundation walls of a tower, which probably protected the entrance to the valley where the village of Saiq is located nowadays.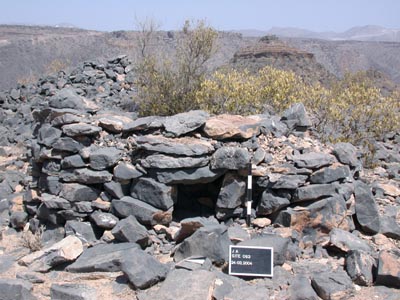 Settlement site of the Early Iron Age reuse in the Middle Islamic period
© 2004 DAI Orient-Abteilung Berlin
Aside the settlement sites, also tombs of the same period were found. Some of them have the shape of huts that is why they are called hut-graves.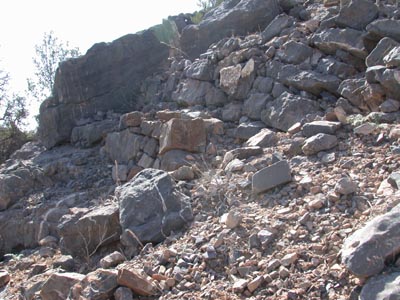 Hut-grave close to the modern village Saiq © 2004 DAI Orient-Abteilung Berlin

Remains of the Late Iron Age and the Early Islamic period have not been found. Only remains of the Middle Islamic period are attested. During this period the fortress of the Early Iron Age was reused. Another Middle Islamic site has been detected south of Massirat al-Rawajeh. Some scattered pottery sherds were found on the fields, a situation which has been also observed at Balad Seet in the Wadi Bani Awf before. All other settlement sites were founded in the Late Islamic period.
Support
The archaeological project was financed by the German Institute of Archaeology, the Sultan Qaboos University Muscat and the German Research Foundation.

Publications
| | |
| --- | --- |
| | Pullar, J. 1974. Harvard Archaeological Survey in Oman, 1973: I - Flint Sites in Oman. Proceedings of the Seminar for Arabian Studies 4, 33-47. |
| | Schreiber, J. 2004. Archaeological reconnaisance at Izki and the Jebel Akhdar. Transformation processes of oasis settlement in Oman 2004 - third stage. A preliminary report. Occident & Orient 9, 6-11. |
| | Schreiber, J. 2005. Jahresbericht der Orient-Abteilung 2004: Oman. Archäologischer Anzeiger 2004, 249-251. |
| | Schreiber, J. 2007. Transformationsprozesse in Oasensiedlungen Omans. Die vorislamische Zeit am Beispiel von Izki, Nizwa und dem Jebel Akhdar. PhD-thesis |
| | |
© Jutta Häser