The Sultanate of Oman is located at the south-eastern tip of the Arabic Peninsula bordering the United Arab Emirates (UAE) in the north, Saudi-Arabia in the west and the Republic of Yemen in the South. Its eastern border is marked by the Arabian Sea and the Gulf of Oman.
Oman's territory of 309,500 km2 consist of a large coherent body and the Musandam Peninsula in the north, which is separated from the main area of the country by part of the UAE's territory. About 82% of the Sultanate's area is covered by extensive, relatively flat sand and gravel plains. The Northern region, however, comprises a rugged chain of mountains, the highest peak of which, Jebel Shams, rises to about 3,000 m above sea level.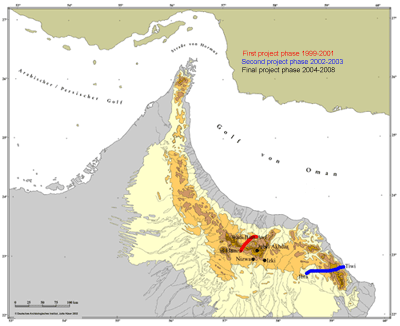 Map showing the main study areas
The research was conducted in three different areas of Northern Oman. The basic philosophy of the project is interdisciplinary work in three transects which cut and, in order to compare, unite areas of different ecological qualities and economies. Two of these transects start in the lowlands near the coast or at the coast, cross the mountains and end in the interior. A third transect connects main oasis settlements of the interior.
The first transect followed the Wadi Bani Awf up the oasis Balad Seet, crossed the mountains between Balad Seet and Misfat al-`Abriyin and ended at the old centre of the region, Al Hamra. Achitects/urbanists, archeologists and historians/ ethnologists worked on the whole transect area for a documentation and analysis of settlement structures and settlement morphology in a historical context. The agronomists focused their research on one settlement, the oasis Balad Seet.
In the second phase of the research project the historical and architectural investigations were carried out in the southern part along a transect from Ibra, the mountain oasis Maqta and the fishing village of Tiwi. The core research area of the agronomists was the oasis settlement Maqta.
Another transect from Ibra towards Nizwa is situated in Inner Oman which also includes oases of the unique Jabal Akhdar ecosystem